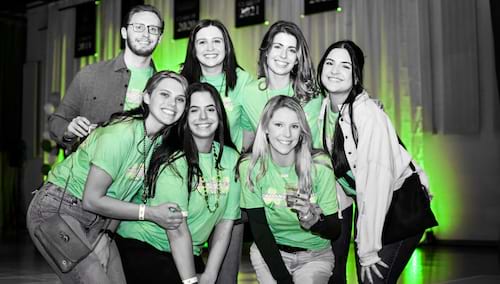 March 1, 2023
The 13th annual Shamrockin' Eve will return to the Byron Center Friday, March 10, at 8:30 p.m.
The event will unite alumni from the classes of 2018-2022 with current seniors in celebration of one of Scranton's favorite traditions. Featuring food, drinks, a DJ, a photo booth, and a sea of green T-shirts, Shamrockin' Eve will truly be a night to remember.
Alumni can register online through Friday, March 10, at 9 a.m.; alumni may also register as walk-ins at the event for $40. Seniors must register online for $35 by March 10 at 9 a.m. as senior walk-ins will not be admitted. See a list of registrants here. This year, $5 of every registration fee will benefit The University of Scranton Royal Fund.
In 2009, the University held its first Shamrockin' Eve. The event was founded after a group of young alumni who wanted to reconnect with Scranton and each other prior to their five-year class reunion met with the late Rev. Scott R. Pilarz, S.J., the University's 24th and 27th president, at Chapman Lake. It quickly evolved into an opportunity for current seniors and recent graduates to contribute to the success of future University students.
For more information, visit scranton.edu/shamrock.
Shamrockin' Eve Returns March 10
Scranton tradition to unite alumni and seniors.