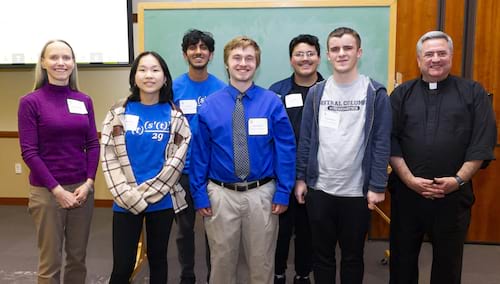 May 11, 2023
Andrew Sutton, Central Columbia High School, won The University of Scranton's 2023 Math Integration Bee for high school students.
 In addition to Sutton, the four other finalists in the competition were: Noah Beckish, North Pocono High School; Sai Ghatti, Abington Heights High School; Daniel Martinez, Pocono Mountain West High School; and Angela Zeng, Abington Heights High School.
The University's Mathematics Department hosted the Integration Bee during the spring semester on campus. The competition functions similar to a spelling bee, but with contestants completing definite and indefinite integral problems, a type of calculus problem, instead of spelling words. The competition can help high school students improve their skills for Advanced Placement mathematics tests.
Math Integration Bee Finalists Announced
Finalists and winner of The University of Scranton Math Integration Bee high school competition is announced.